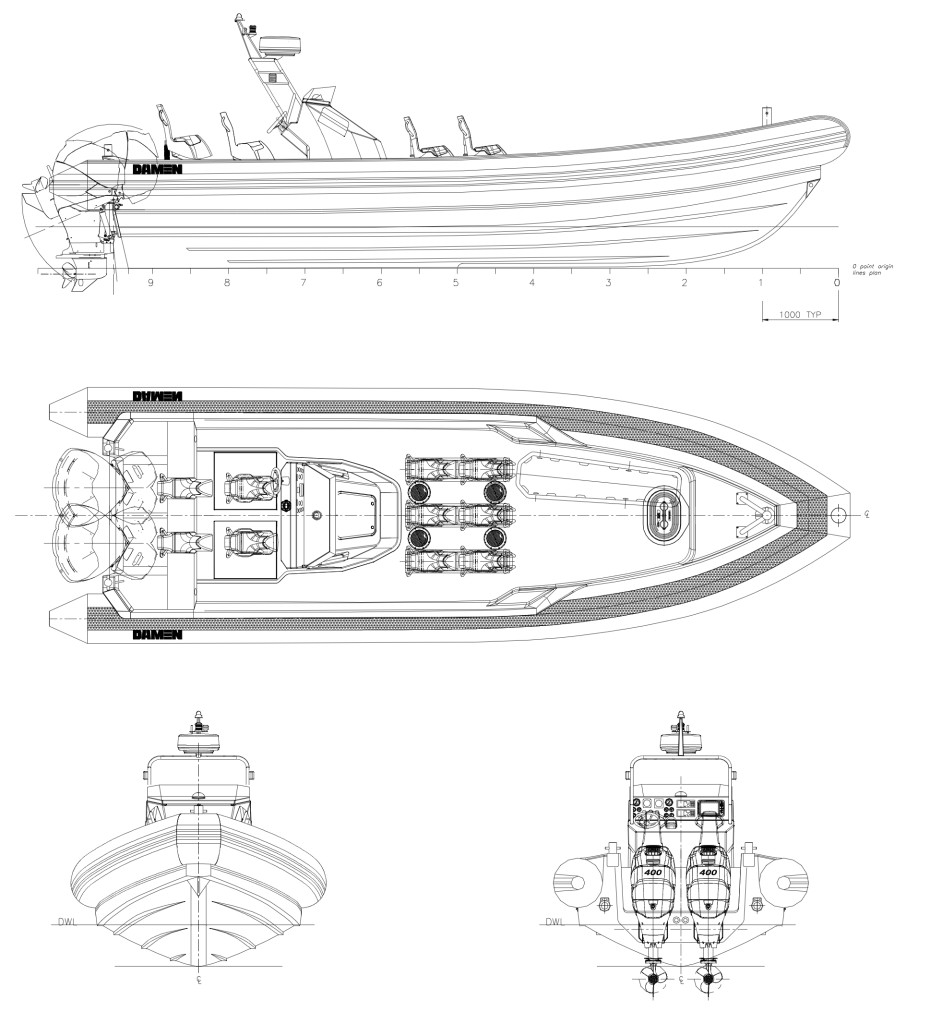 | | |
| --- | --- |
| Company/Organisation | : Damen |
| Boat type | : RHIB |
| Boat material | : Epoxy – GRP |
| Fuel type | : Diesel |
| Engine(s) | : Twin 400 Mercury * Outboards J |
| Top Speed | :55 knot+ |
| LOA (length,) | :10.5 m |
| BOA (width,) | :3.35 m |
| Dry Weight (kg) | : |
| Capacity PAX | :12 |
| | Waterjets or Sterndrive |
| Website & Email | :www.Damen.com & info@damen.com |
…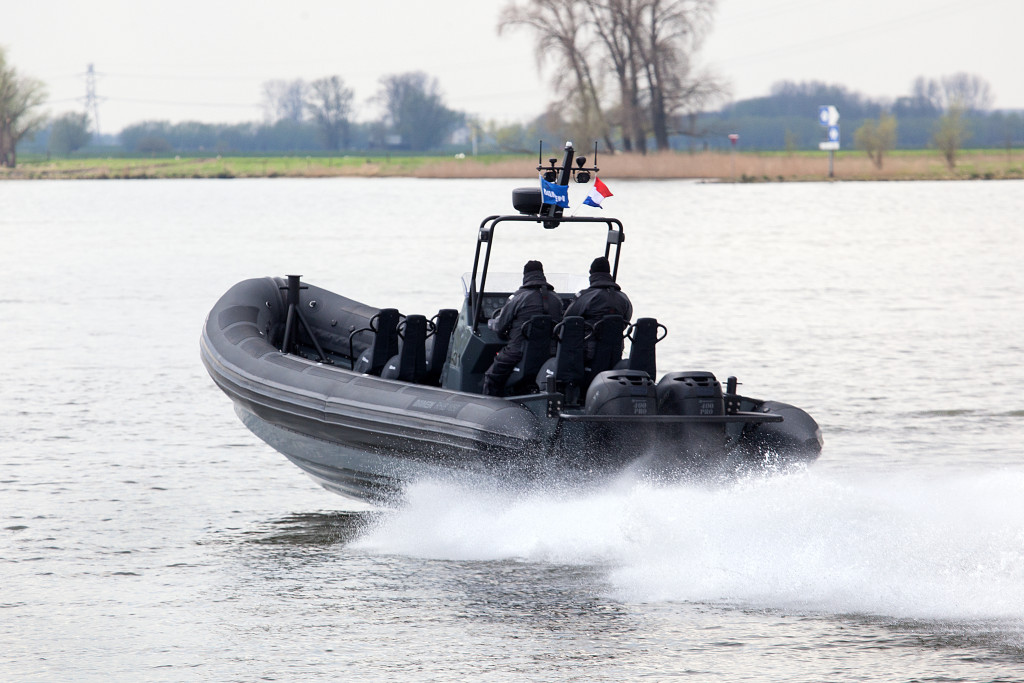 | | |
| --- | --- |
| Boat type | :Vector 23 |
| Boat material | : Aluminium |
| Fuel type | :Petrol |
| Engine(s) | :Suzuki DF300 |
| Top Speed | :50 Knots |
| LOA | 7,9m |
| Lenght of hull | 7,6m |
| BOA | 2,3m |
| Beam of hull | 2,0m |
| Dry Weight (kg) |  Ca 1600kg |
| Capacity PAX | :5 |
| Person responsible for Boat | :Fredrik Hettemark |
| Driver of Boat | : Fredrik Hettemark |
| E-mail | : fredrik@vectormarine.se |
| Mobile phone number | :+46 70 268 9120 |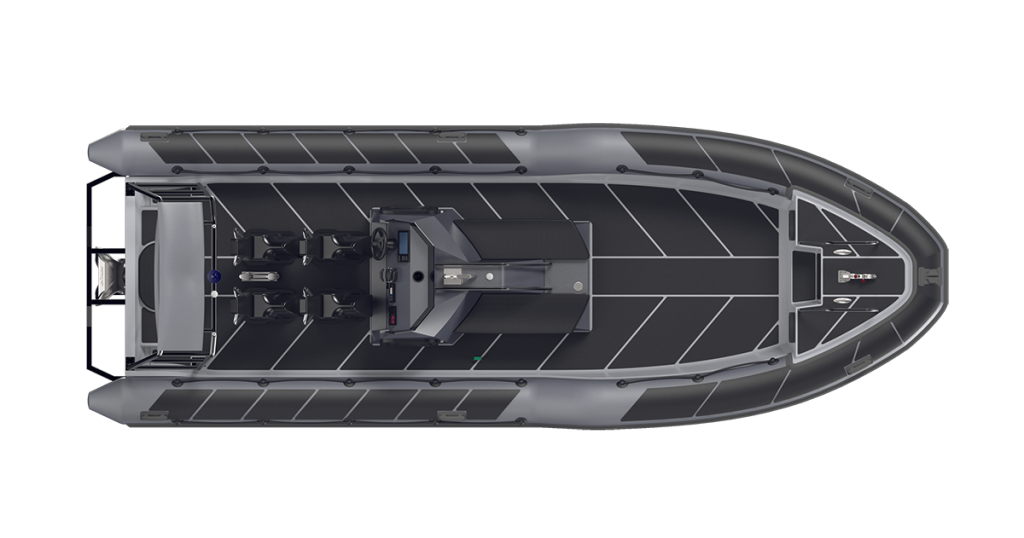 Length overall      8.50 m
Beam Max           3.00 m
Draught               0.6 m
Displacement     3.2 tonnes
Max Speed         30 kn Crusing Speed     20 kn
Fuel Tanks         300 liters
Range                225 nm @ crusing speed
Engine Type     Volvo Penta D6 (outboard optional)
Engine Size      330 HP Propulsion     Waterjet (outboard optional)
Classification   Lloyds Registered Special Service Craft
POC: Þorsteinn Bragi Jónínuson
Thorsteinn.Joninuson@rafnar.is
Rafnar.is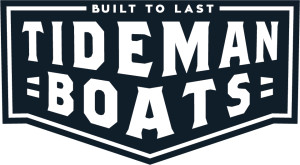 Tideman HDPE workboats: strong alternative to RIB's
When talking about hull material in boatbuilding, GRP and aluminium RIB's with rubber tubes immediately spring to mind. Vessels made of quite vulnerable materials. Far from ideal when working in rough environments like rocky shores, shallow waters or arctic conditions.
This is exactly why we created our RBB: Rigid Buoyancy Boat. A RIB-like boat made from HDPE (High Density Poly Ethylene). A material that is light. durable and indestructible.
RBB vs RIB: no tubes
– No vulnerable tubes filled with air, but a hull made out of indestructible HDPE.
– 50% more deckspace, because we don't use the gigantic airfilled tubes.
Tideman Boats
Tideman Boats BV is a manufacturer of high speed, indestructible HDPE workboats. We're specialized in design and build of indestructible workboats for the dredging, fishing, military and governmental markets. Mainly high speed shallow water applications for heavy duty users. Size: 6.00 to 8.00 meters of length. All models can be transported easily in a container or road trailer. All our boats can be built to class Bureau Veritas.
Boat type            : Indestructible – Workboat
Boat material     : HDPE
Fuel type            : Diesel
Engine(s)            : Yanmar 6LPA-STP 315hp
Top Speed          : 38 knots
Drive lines          : Alamarin 245 water jet
LOA (length, m)   : 8.50
BOA (width, m)    : 2.50
Dry Weight (kg)   : 2800
Capacity PAX        : 10
Website: tidemanboats.com
E-mail : bruno@tidemanboats.com
Mobile phone number : +31 6 29 20 05 17
https://www.facebook.com/tidemanboats
United States Navy – Naval Special Warfare Combatant Craft Division, Norfolk Detachment
Michael Riley, The Columbia Group
Kelly Haupt, NSWCCD Det Norfolk
Donald Jacobson, NSWCCD Det Norfolk
Timothy Coats, NSWCCD Det Norfolk
This brief presents an analysis of the acceleration response motions of a high-speed planing craft in waves. These motions are of interest because a broader awareness and a better understanding of cause and effect physical relationships in high speed wave impacts could be applied in craft design or comparative craft system evaluations to address multiple factors associated with seaworthiness, including hull design loads, stability, component ruggedness, and crew or passenger comfort and safety.
The paper builds on lessons learned from historical stochastic analysis methods that transition the randomness of ocean waves and full scale trials data to useful peak acceleration values. Parameters such as the average of the one-tenth and one-hundredth highest peak acceleration values are discussed, and the root- mean-square acceleration value is explained and applied in a new procedure for estimating the average acceleration amplitude for each wave slam event. The limitations of statistical approaches related to user subjectivity are summarized, and a new deterministic analysis methodology is presented that characterizes the rigid-body responses of the craft in terms of acceleration, velocity, displacement, and rotation motions during each wave impact event. Time-history comparison plots of various individual wave impact events are presented, new wave impact parameters and types of impacts are defined, and the results of regression analyses are presented. The results demonstrate that peak rigid-body acceleration values are repeatable and scalable. The limitations of these results are summarized and further research is suggested for achieving a broader level of knowledge for future applications.
Current hull design methodologies and seakeeping criteria are based on the solid foundation of understanding related to the randomness of ocean waves. It is envisioned that these methods coupled with the new analysis approach presented in this paper could help researchers, designers, engineers, builders, and operators increase their awareness and understanding of the dynamics of high-speed wave impacts in planing hulls. The increased awareness and understanding could have broad applications for improved standard processes, including structural design, correlation with computational modeling and simulation methodologies, correlation of full-scale and scale-model test data, comparative evaluations of different craft, and development of criteria for improved ruggedness and personnel comfort and safety.
High speed craft (HSC) operating in a seaway are likely to produce injuries among operators as craft are prone to slamming.  Navatek Ltd. has been working for decades to reduce at-sea motions and increase efficiency on all sizes of marine vehicles.  Recently, the Aft Lifting Body (ALB) motion control device has been demonstrated to significantly reduce slamming on a number of high speed craft, including the Sea Blade 40.  Several recent ALB projects will be discussed to highlight the current state-of-the-art in ALB technology.  Significant improvements in maneuverability with an ALB and decreases in installed weight have been demonstrated.  In-house CFD and simulation tools like Aegir and NavaSim have been benchmarked against real-world sea trial data and can be used to quickly evaluate improvements in HSC motions and accelerations as well as optimize ALB size and performance.
Frank DeBord
Chief, Naval Architecture Section
U.S. Coast Guard Surface Forces Logistics Center, Engineering Services Division
The U.S. Coast Guard operates approximately 1800 small boats.  Many of these are high-speed craft used for multiple missions including Search and Rescue, Law Enforcement and Port Security.  Most of these boats are based at coastal and inland Coast Guard Stations located throughout the United States.  However, a significant number are based onboard cutters and some are assigned to mobile units that are intended to be transported over land, by air or by ship.
This presentation will provide an overview of the missions for Coast Guard high-speed boats and a discussion of how required boat characteristics vary for the different types of operations.  Examples will be provided for four current new-boat programs including two shore-based boats and two cutter-based boats.  Requirements for each of these programs will be discussed and the resulting designs will be reviewed.  Finally, some of the lessons learned during these programs and previous programs will be discussed.
Background Information:    Frank DeBord
Frank DeBord is Chief of the Naval Architect Section at the U.S. Coast Guard Surface Forces Logistics Center, Engineering Services Division.  This Section is responsible for providing Naval Architecture Subject Matter Expertise for new boat procurements and sustainment of the existing fleet. Mr. DeBord is a licensed Professional Engineer with 35 years of experience completing experimental, analytical and numerical boat and ship design projects.  He holds a Bachelor's Degree in Mechanical Engineering and a Master's Degree in Ocean Engineering, both from the Stevens Institute of Technology.
Albert Nazarov, Ph.D.
Albatross Marine Design
Catamaran concept provides certain advantages for pleasure, small commercial and special craft in terms of ride quality, usable deck space and safety. Meanwhile, those advantages are not always fully understood by special craft operators, also taking into account known weak points such as higher costs and lower load carrying capacity. The presentation will include discussion of catamaran design features and some catamaran designs samples.
Stefan Gustafsson Colonel Ret. Sw. Marines
To take and maintain control in congested coastal areas, harbour areas, narrow straits and archipelago´s
This lecture exposes the challenges of sniper support of HSBO and the material and training requirements on both the crew and the snipers. It will explain in detail the true capabilities of current sniper equipment in the HSBO support role. Additionally the Hard Target Interdiction capacity of the .50 BMG Browning M2, Barrett M107A1 and other HTI calibers will be analized. The tactical boat armoring efficacy against .50BM multipurpose ammunition will be displayed.
Eduardo Abril de Fontcuberta is one of the global sniping foremost authorities. Barrett team shooter, Steyr Mannlicher in-house sniper R&D expert and 2011 .50 BMG 1000 yards World Champion shooter. Mr. Fontcuberta is a Master Scuba Diver and CCR/SCR operator. He is a certified Advanced Armorer, "Train the trainers" and certified technician in Barrett, Steyr, Glock, SAAB, SIMRAD equipment. Has consulted for many leading companies of the Tactical/Maritime spectrum. He has directed several projects of Maritime Tactical and Rescue Units in Africa.
Cdr. Christian Wines
Norwegian Defence Logistics Organisation, 
Naval Systems Division,
Naval Architecture Section, Bergen, Norway 
Stability and Safety Issues for High Speed Operation of Rigid Inflatable Boats.
Future work on understanding the physics behind "calm water broach" or "spin out" phenomenon.
Understanding these phenomenon, what are the contributing factors, how can it be avoided?
Dr. Liam Gannon
Defence Research and Development Canada
Military personnel on small high speed craft experience sustained extreme motions and repeated high-g slam impacts. Existing commercial shock mitigation seats can reduce the negative effects of this severe environment on health and safety; however, the procedures used to specify shock mitigation seat performance requirements and especially methods used to demonstrate compliance with performance requirements are not well understood. DRDC Atlantic is pursuing an R&D initiative to reduce the risk of acute and chronic injury to personnel serving in small high speed military craft. This programme seeks to improve the state of the art for modeling, simulation, testing, and evaluation of shock mitigation seat technologies. The presentation will outline the shock mitigating seat test and evaluation programme that will soon commence at the Naval Engineering Test Establishment in Montreal, Canada under the direction of DRDC Atlantic. Methods for modelling the response of shock mitigating seats to high speed craft motions and seat characteristics required to accurately characterize the response will also be discussed.
Henry Tremblay
President
Kongsberg Maritime Simulation Inc.
Since its initial entry into marine simulation in 1974, Kongsberg Maritime has been a pioneer in maritime simulation technology responding to emerging training needs.   One such innovation was developed as part of a solution to assist the US Navy, which had been experiencing a high incidence of accidents across a broad range of small rigid hull inflatable boats (RHIBs).  Working closely with the customer, Kongsberg adapted its ship bridge simulator (SBS) technology to a small high-speed craft trainer that would allow USN RHIB coxswains to train on high speed critical manoeuvres long before going to sea.
Further feedback from users resulted in the development of a dedicated helm, modeled after standard RHIB controls, and the development of new hydrodynamic models for several RHIB types and sizes.  Further feedback indicated that Coxswains needed to "feel" the boat and relied on motion cues in the decision making process.  Kongsberg adapted the RHIB trainer to a 6-DOF electric motion base to achieve this objective.    The built in Assessment System can compare how successful individual small boat drivers are able to feel and read the waves to develop "Best Practices" such as providing the least amount of shock to their boat and its crew.
The presentation will provide an overview of the state-of-the-art of the technology, some of the challenges experienced in the development of the product and some insight on where this application of marine simulation technology will lead us in the coming years.
Åke Dagnevik is the Techical Director of the Swedish Coast Guard.
Dog Phillips – 

Maritime Offshore Consultancy
High speed boating in Nigeria. Difficulties and experiences.
Specifying and adapting craft for specific tasks and missions.
Training local crews in boat handling and tactics.
Rout planning and diversions.
Follow-up on last years presentation with lessons learned and outcome.
PhD Karl Garme – KTH Centre for Naval Architecture
PhD Ivan Stenius – KTH Centre for Naval Architecture
Lage Burström – Associate Prof  Occupational and Environmental Medicine, Dept of Public Health & Clinical Medicine, Umea University,
Stefan Andersson – Engineer, Swedish Coast Guard
Sven-Åke Eriksson – Research Electronics,
MSc student Katrin Olausson – KTH Centre for Naval Architecture
The presentation describes an ongoing co-operation between KTH Centre for Naval Architecture, Umeå University and the Swedish Coast Guard. The project's overall goal is increased safety for crews and vessels that are designed for high speed at rough conditions, for instance during rescue operations. Questions to be answered concern the coupling between hull structural loads, crews' working conditions including ergonomics, and the correlation between the hull structural design and the loads the crew initiate to themselves and the hull. A system for data collection and key-figure display has been developed together with Research Electronics and is now ready for installation in two coast guard units. The system and a tailored software tool for evaluation are presented. Also measures for evaluating human response to vibrations are discussed and exemplified by a case study on a high-speed coast guard unit.
Jon Hill* & Dr Trevor Dobbins**
* – Trident Marine & FRC International
** – STResearch & FRC International
Professional operations are reliant on competent crew with the appropriate capabilities and qualifications. Internationally recognised qualifications enhance operational effectiveness via improved interoperability between both individuals and agencies. The recognised qualification structure developed by FRC-INT, and internationally recognised by The Nautical Institute, supports this competence-based interoperability with basic competence/qualifications being the foundation for advanced skills with modularity providing the flexibility required. Included within these basic competences are the required Command & Control (C2) skills; e.g. DYnamic NAVigation (DYNAV). Examples of advanced modules include compliant / non-compliant boarding and mission planning developed with Trident Marine, and C2/navigation with an international team including STR et al. The maintenance of competence requires Continuing Professional Development (CPD) to facilitate and enhance an organisations resilience, part of which includes maintaining the crews health and safety. In HSB operations it is essential to deal with Whole Body Vibration (WBV), including legal compliance in the EU, and the required Health Surveillance (H-SURV), examples of which are being delivered to the industry sector by FRC-INT. Comprehensive / integrated training and support programmes enhance operation effectiveness and readiness, and help the crew to remain safe and healthy.
Peter Keyes will present the results from the High Speed Vessel Workshop in Tazmania.
Following a number of incidents in high speed passenger vessels a Workshop was held in Tasmania covering the operation of high speed vessels.
This workshop included many topics but to a large extent focussed on training and vessel operations.
Attendees came from all Australian states and territories as well as New Zealand with interest from all parts of the world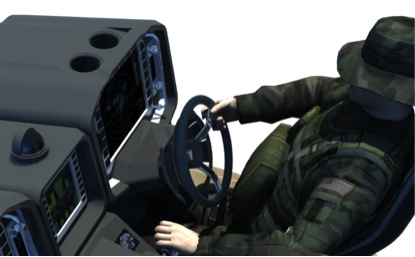 Boats are designed to be used by humans. The use of Computer-Aided-Design (CAD) systems has enhanced the design of boats, but it is still rare for humans to be effectively represented within the design process. Particularly related to
how the crew member interacts with the craft's displays and controls. Digital Human Models (DHMs) are used in a number of situations, (e.g. car design) but their use is limited for boat applications. For example; they are generally dressed in casual clothes that are unrepresentative of typical professional boat crew clothing (e.g. dry-suit) and equipment (e.g. lifejacket). The presentation will describe the work undertaken to develop DHMs for use in the marine design environment where the crewmembers wear bulky equipment and have restricted ranges-of-motion which compromises their ability to command and control the craft. In association with the HSC Human Factors Engineering Design Guide, the marine specific DHMs provide the CAD designers with a tool to help ensure that humans can effectively operate and move around craft before mock-ups are produced, and boats are built.