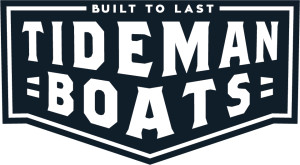 Tideman HDPE workboats: strong alternative to RIB's
When talking about hull material in boatbuilding, GRP and aluminium RIB's with rubber tubes immediately spring to mind. Vessels made of quite vulnerable materials. Far from ideal when working in rough environments like rocky shores, shallow waters or arctic conditions.
This is exactly why we created our RBB: Rigid Buoyancy Boat. A RIB-like boat made from HDPE (High Density Poly Ethylene). A material that is light. durable and indestructible.
RBB vs RIB: no tubes
– No vulnerable tubes filled with air, but a hull made out of indestructible HDPE.
– 50% more deckspace, because we don't use the gigantic airfilled tubes.
Tideman Boats
Tideman Boats BV is a manufacturer of high speed, indestructible HDPE workboats. We're specialized in design and build of indestructible workboats for the dredging, fishing, military and governmental markets. Mainly high speed shallow water applications for heavy duty users. Size: 6.00 to 8.00 meters of length. All models can be transported easily in a container or road trailer. All our boats can be built to class Bureau Veritas.
Boat type            : Indestructible – Workboat
Boat material     : HDPE
Fuel type            : Diesel
Engine(s)            : Yanmar 6LPA-STP 315hp
Top Speed          : 38 knots
Drive lines          : Alamarin 245 water jet
LOA (length, m)   : 8.50
BOA (width, m)    : 2.50
Dry Weight (kg)   : 2800
Capacity PAX        : 10
Website: tidemanboats.com
E-mail : bruno@tidemanboats.com
Mobile phone number : +31 6 29 20 05 17
https://www.facebook.com/tidemanboats